Disney World is a part of my life. It holds a lot of real estate in my core memory. As a child I was fortunate to have my family take us every couple of years. We bonded through imagination and adventure. In my college sophomore year I joined the Disney College Program for 8 months. Working at Walt Disney World I fortified friendships with people across the country and around the world. When I met Andy he knew me well enough to insist we join our hearts together in the place I love so dearly. We married at Sea Breeze Point on Disney's Boardwalk and shared our first dance at The Living Seas.  We've since visited together to celebrate anniversaries and make memories as a married couple. Since our last trip in June 2015 we have been blessed to have had a little girl, who is now nearing her second birthday. (Hence my hiatus.) This June it is her turn to have her first trip, and I will have a new beginning visiting Disney World as a mommy. Navigating Magic Kingdom with her unique toddler pace and needs is uncharted territory.
We got this.
It's an interesting time to embark on a fresh start, as Disney World itself is rapidly evolving and growing. Simultaneously we have reached a new chapter. Changes at WDW that have occurred over the last two years and that will continue well into the next  two years are almost too numerous to name.
Disney's Animal Kingdom has finally opened Pandora and the night time spectacular Rivers of Light. The construction at Disney Springs is nearing completion. It seems as though I've been hearing continuously about a new restaurant opening there. And with a current 56 dining options, it's no wonder…
Who will recognize Disney's Hollywood Studios once Toy Story Land and Galaxy's Edge, the new Star Wars-themed (mega)land are open? A nice pairing to the innovative, fully immersive Star Wars themed hotel that's being cooked up. Details are being released slowly, and it promises to change your idea what a hotel experience can be. I almost forgot to mention that The Great Movie Ride has closed and will be replaced by Mickey & Minnie's Runaway Railway.
New Fantasyland wasn't the end-line for Magic Kingdom, there's the new Tron coaster coming next to Space Mountain, as well as a live entertainment theater coming to Main Street, U.S.A. (I'm still not sure how I feel about that one.)
Oh yeah, and of course the complete re-imagining of Future World in Epcot. Goodbye Universe of Energy, Hello Guardians of the Galaxy.  Mission Space will get an update similar to Soarin' and there will be a space-themed restaurant. World Showcase will not be left out. France is welcoming a Ratatouille attraction and China will receive a new film.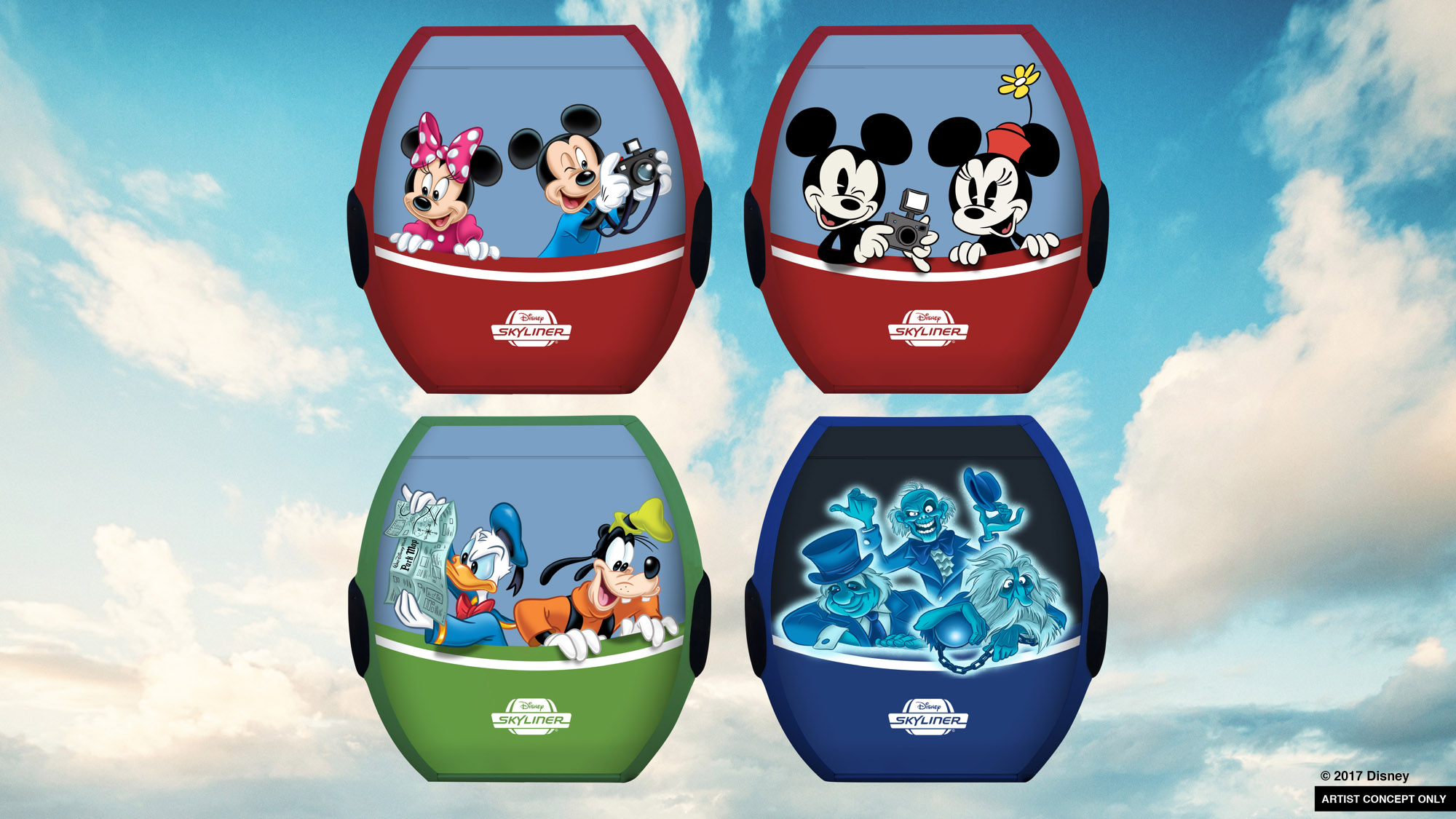 What about the major reboot of Caribbean Beach that includes the Skyliner transporting guests to Epcot's International Gateway and Hollywood Studios? The Skyliner will also be connected to Pop Century and Art of Animation. It over-shadows the Uber/Lyft style Minnie Vans that will take you anywhere on property for a flat $25 rate, if you're not inclined to wait for the bus/boat/monorail.
Hungry? Did you know that mobile ordering is sweeping through counter service locations? Order on your phone and the food will be hot and fresh for you when you arrive at your dining location.
And the ever growing Disney Vacation Club is building a new property –  Disney Riviera Resort. This will be the 15th DVC property, and it's said it will be connected to the aforementioned Sykliner. Outside of that not many details have been released, and I thought the concept art looked a little bland. What do you think?
Is your head spinning? Mine is. While I'm eager and excited for new experiences to pair with old favorites, it does make me apprehensive. Disney is good, but there's a lot of quality control needing to happen. Can they support this rate of growth and maintain the Disney Difference? And the GREAT white elephant in the room: cost. Walt Disney imagined his parks to be a place available to everyone. It's not a secret Disney World's prices have been climbing. When does it become a place for only the exceedingly privileged? Some may argue we're already there. Is this all change for the positive? Only time will tell. I hope I'm wowed.
In the meantime, I need to up my game and start thinking about park-friendly toddler snacks.
See ya real soon!